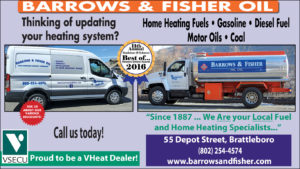 Main Office
Phone: (802) 254-4574
Fax: (802) 254-5353
Office: 55 Depot Street, Brattleboro, VT 05301
Hours: Monday-Friday 7:00am-3:30pm
We offer emergency service and oil delivery 24 hours 7 days a week
Emergency Service
Current customers only.
if you would like to become a customer, set up an account during normal business hours.
During normal business hours Call (802) 254-4574
During Non-business hours Call (866) 888-9608
An emergency service or delivery might incur emergency fees
Employee Owned
Barrows and Fisher Oil Company is proud to be locally owned and operated for over 125 years!