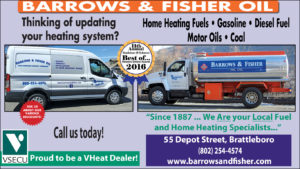 Main Office
Phone: (802) 254-4574
Fax: (802) 254-5353
Office: 55 Depot Street, Brattleboro, VT 05301
Hours: Monday-Friday 7:00am-3:30pm
We offer emergency service and oil delivery 24 hours 7 days a week
Emergency Service
Current customers only.
if you would like to become a customer, set up an account during normal business hours.
During normal business hours Call (802) 254-4574
During Non-business hours Call (866) 888-9608 toll free or (802) 773-5557 local
An emergency service or delivery might incur emergency fees
Military Discount
as a thank you to our service men and women we offer a discount of 3 cents off our posted price on every gallon of heating oil and kerosene for all veterans and active military
Employee Owned
Barrows and Fisher Oil Company is proud to be locally owned and operated for over 125 years!